---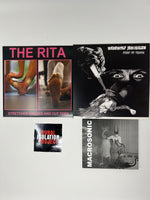 RIP031 WEREWOLF JERUSALEM - POINT OF TERROR New 7" from Black Leather Jesus founder Richard Ramirez. An absolute monster of a release from one of my favorite projects ever. 7" vinyl. The King of noise formats.
RIP051 THE RITA - STRETCHED ARCHES AND CUT TOES. Sam McKinlay continues to blaze a unique path across a stultifying landscape while many of you soft nerds complain he isn't making the exact same records he was making 20 years ago. All source sounds from various ballet feet exercises and eventual bandage use. 
All sounds performed and recorded by Cassie.  
All DSLR audio recording and analog electronic processing by Sam McKinlay. 
RIP050 MACROSONIC - SPYKE TEAM  A collaboration from the heroic Joe Roemer and All Brentnall aka Mlehst  …an absolute corker of heavy klank/subtle ambience. If you've been following the stuff we've been putting out you know this slots in perfectly with the vibe we're laying down. This is the second installment of collaboration project Macrosonic. rare sounds by Joe Roemer and All Mlehst. Edited, mixed and produced by All Mlehst. $10 each or $25 for all three! Krazy!